TELESCOPE AND ASTRONOMY DISCOVERY KIT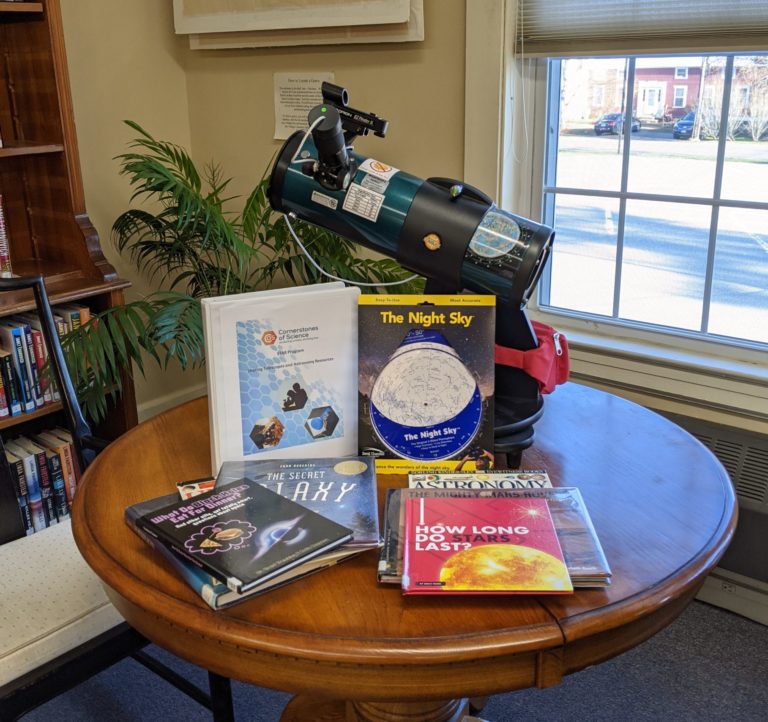 We are pleased to offer the Astronomy Discovery Kit, complete with Orion 4.5″ Starblast Telescope, for our patrons to check out for stargazing at home!
Cornerstones of Science, whose mission is to work with libraries and communities to create experiences of science that spark curiosity and foster a deeper connection to the world around us, generously donated the telescope to Thomaston Public Library in honor of a retiring board member.
The Astronomy Discovery Kit contains the following:
Orion 4.5" Starblast Telescope (modified)
Instruction Manual
Headlamp
National Audubon Society Pocket Guide: Constellations
The Night Sky Planisphere 40° – 50° Star Finder
What Do Black Holes Eat for Dinner? And Other Silly, Yet Totally Smart, Questions About Space by Dr. Grant Tremblay and Katie Coppens
How Long Do Stars Last? by Emily Hudd
Astronomy (DK / Eyewitness Books) by Kristen Lippincott
The Secret Galaxy by Fran Hodgkins, photographs by Mike Taylor
Universe (DK / Eyewitness Books) by Robin Kerrod
365 Starry Nights by Chet Raymo
The Mighty Mars Rovers: The Incredible Adventures of Spirit and Opportunity by Elizabeth Rusch
Library staff will instruct you in using and safely transporting the telescope during checkout. The Astronomy Discovery Kit is available to borrow for up to two weeks by Thomaston Public Library patrons, 18 years of age or older, in good standing, who sign the Telescope Borrowing Agreement.