PLEASE NOTE: Due to the COVID-19 pandemic, interlibrary loan requests may take a little longer than usual.  
Looking for something that we don't have here in the library? Here's how to request an item through interlibrary loan (ILL):
Please note that you must have a new library card number (14 digits instead of a 5 digit card number) and your library account must be in good standing to request an interlibrary loan using this system. If you haven't gotten a new number, come on in to the library with your card to get it updated, and in the meantime you can email your request to library@thomastonmaine.gov. Can't find your old card? Come in to the library and let us know. 
Start with our online card catalog (which may look slightly different than the images below if you are using a tablet or mobile device), but make sure the search drop down box says "View Entire Collection" instead of "Thomaston Public Library." This will make sure you are searching through the catalogs of other MILS libraries as well as ours:

The search will default to a keyword search, though you can also switch to title or author (last name, first name). We generally recommend a keyword search for best results, and if possible, using the title and author's last name. This will usually bring up a list of search results that are at least close matches or perhaps related to the item you are searching for (e.g., if there are other books by the same author in the system, it will likely show those as well).
Click on the title of the item that seems like the closest match to what you are searching for to check the details: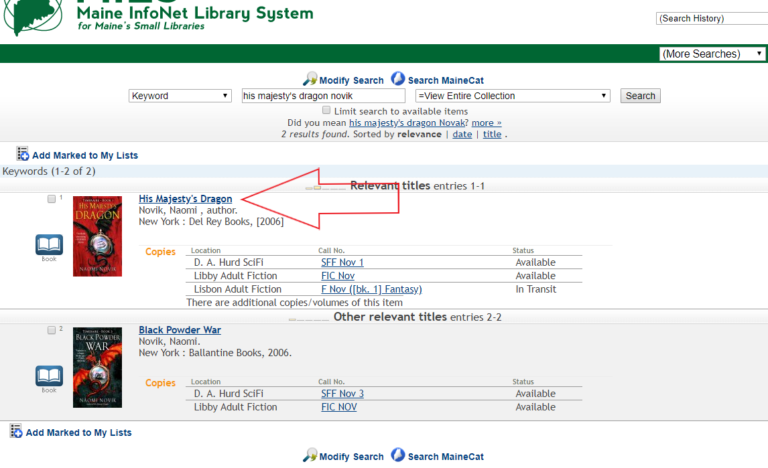 If that is the item you're looking for, awesome! Click the "Request" button.

Log in to your library account (please note that by barcode, they mean your library card number):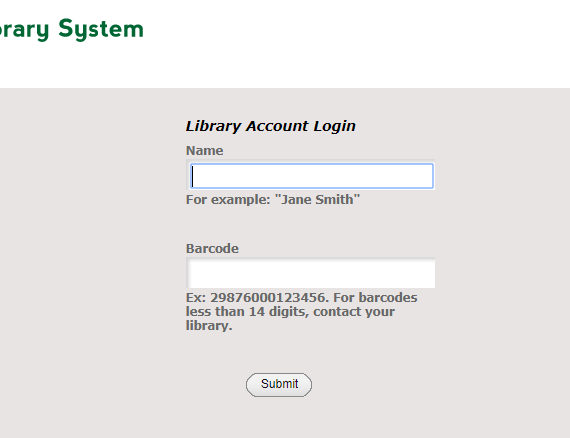 If your request was successful, you'll get the following message and you will be emailed (or, if we don't have an email address on file for you, called) when your item arrives here at the library:

If you weren't able to find your item in one of the MILS libraries, don't worry! You can still check the rest of the Maine libraries by clicking the "Search MaineCat" button:

Searching and requesting in MaineCat is very similar to MILS, except you'll have one extra step when you request an item in MaineCat. You'll see a screen similar to the one below that will ask you to select your home library. Make sure to select "Thomaston Public Library" from the drop down list before clicking the submit button, and then you will be taken to the log in screen to enter your name and card number.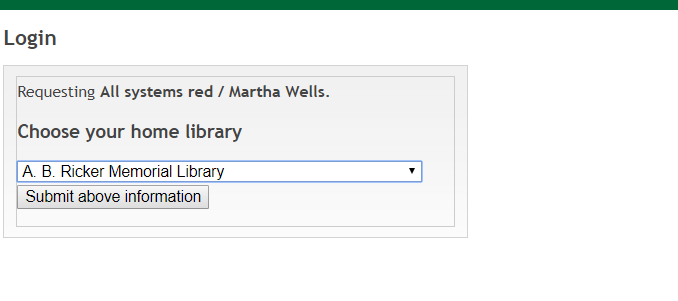 If you want to check the status of your request, you can click on "My Library Account" in the top right corner of the MILS catalog:

Once you log in with your name and library card number (barcode), you'll be able to see your current checkouts, renew if needed, view your past reading history, and check the status of any holds you have. Once your item is on its way to Thomaston Public Library, you'll see the status change to "In Transit." After it arrives at the library, it will change to "Ready for Pickup" with a date you must pick the item up by (one week after it arrives at the library).
If you are not able to find the item you are searching for in MaineCat, email your request to us at library@thomastonmaine.gov We'll see if we can find it or pass the request along to the helpful folks at Bangor Public Library and they'll put in an out-of-state search request for us. Please include as much information about your request as possible – title and author, at least, for books. For DVDs, the title and another piece of relevant info, such as year it was made, the director, or who starred in it, will help us narrow the search.
A few other things to note:
If you receive an error message when submitting a request, give us a call at (207) 354-2453, or send an email to

library@thomastonmaine.gov

. We'll see if we can resolve it.
If all the copies of a particular book are out (if they all show due dates or anything other an "Available" status), you may still be able to request it and put your name on the hold list for an item.
Brand new releases may not be able to be requested right away, especially if they are only available through MaineCat instead of MILS, but there's no harm in trying to request it.