MAINE AUDUBON NATURE EXPLORER BACKPACKS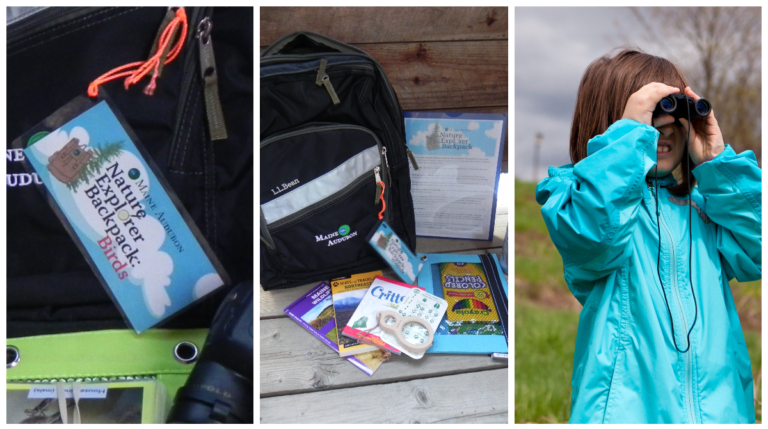 We are pleased to announce a new item now available for circulation: Maine Audubon Nature Explorer Backpacks. Check out a backpack and a world of wildlife will open up for you and your family. Each pack has a custom-made user's guide that walks you through each item in the backpack and provides activities, games, book lists, and more. You'll find tips for families on how to enjoy nature, nature journal templates, simple craft ideas, and even ways to use your smartphone to connect with wildlife. Now, your outdoor time can become a science-based experience that fosters environmental literacy.
The backpacks have different themes – Plants, Wildlife, or Birds – and include things like field guides and books, nature journal templates, specimen boxes, track ID cards, binoculars, activity ideas, and more.
Each backpack also comes with a survey, so be sure to fill it out when you return the backpack, so the library can provide feedback and make sure future themed packs are even better. Maine Audubon Nature Explorer Backpacks are made possible by the Stephen & Tabitha King Foundation. 
Maine Audubon Nature Explorer Backpacks are available to borrow for up to two weeks to Thomaston Public Library patrons in good standing. A parent or guardian must be available to sign a Backpack Borrowing Agreement upon checkout if the patron is under age 16. 
About Maine Audubon:
Maine Audubon works to conserve Maine's wildlife and wildlife habitat by engaging people in education, conservation, and action. The largest Maine-based wildlife conservation organization, Maine Audubon has eight wildlife sanctuaries, 10,000 members, 2,000 volunteers, and serves more than 50,000 people annually. For more information, visit maineaudubon.org.