WEEKLY TAKE-AND-MAKE PROJECTS FOR KIDS!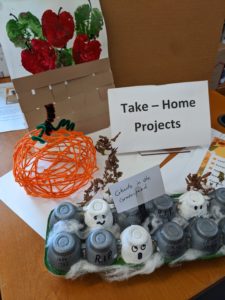 With many thanks to a grant from The Anonimo Foundation, we are again offering free take-and-make projects for kids! Each week, we will have a new craft, science experiment, art project, or other activity available. Activities are geared for kids approximately 7 – 10 years old, though younger children will enjoy the projects with some adult guidance. 

Project Schedule:
October 4-9: Apple Stamping
October 12 – 16: Autumn Scavenger Hunt and Word Game Packet
October 18 – 23: Yarn Pumpkins
October 25 – 30: Ghosts in the Graveyard Craft
November's projects will be announced soon! Contact us at library@thomastonmaine.gov for more information or if you have any feedback or project suggestions!