LIVING A LIFE LESS WASTEFUL: TIPS & STRATEGIES TO REDUCE YOUR TRASH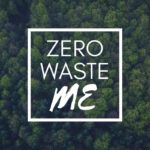 Thomaston Public Library is thrilled to welcome Julie "Jules" Olson from Zero Waste ME to Thomaston via Zoom on Monday, July 19 at 5 PM. Join us to learn how she has reduced her household's trash by more than 85% and how you too can make less trash using a variety of practical skills and strategies!
Email us at library@thomastonmaine.gov for the Zoom link to attend the program!